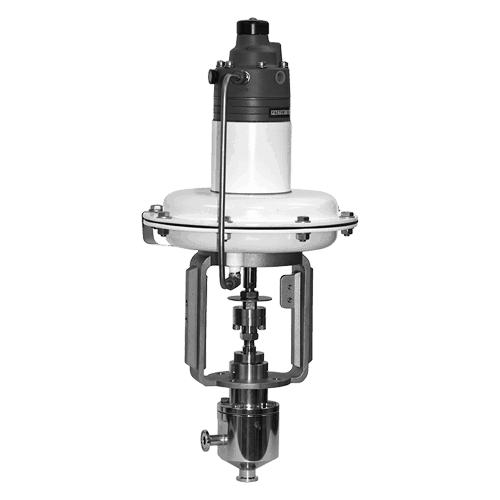 Top mounted pneumatic positioner
The Mark 15 Series valve positioners is a line of compact instruments which incorporates a single-axes, force-balance principle of operation to ensure accurate and stable control valve positioning. In all cases, including bottom-loading applications, a MK15 is mounted directly on the top works of the valve, with no external levers or other exposed mechanisms. Each positioned receives a single from a control instrument, and using an air supply as high as 45 psig (3,4 bar), the positioned strokes the valve actuator to the required position.
Features & Benefits
Single-axes, force-balance of operation, ensures accurate and stable positioning
Feedback circuits direct the actuator's position, ensuring adherence to the control instrument signal
Accommodates a wide variety of valve strokes and instrument spans
Direct-mounted to top of pneumatic actuator
Offers a smaller, more streamlined package with no external linkage
Specifications
Input: 3-15, 6-30, 3-9 or 9-15 psi (0,2-1,0; 0,4-2,1; 0,2-0,6 or 0,6-1,0 bar)
Air Supply Pressure:

35 – 45 psi reverse acting 3-9 / 9-15 / 3-15 / 6-30 ranges
20 – 25 psi direct acting 3 -9 / 9-15 / 3-15 ranges
35 – 45 psi direct acting 6-30

Output: 0 – 100% supply pressure
Operating Temperature Limits: -40°F to +180°F (-40°C to +82°C)
Air Consumption: 0.25 scfm @ 20 psi; (0.0007N/m3 @ 1,4 bar)
Connections: 1/4″ FNPT
Get Help Sizing Your Valve
Quickly and accurately determine the flow coefficient of a valve so that you can choose the proper Steriflow valve for your application.