About Us
Steriflow Valve designs and manufactures the world's most innovative, top-quality and reliable sanitary valves for pharmaceutical, bio-pharmaceutical, cosmetics, food & beverage and other hygienic or sanitary industries.
Our industry-first designs, state-of-the-art CNC machines, QA tools and dedicated Steriflow team are solely focused on this effort. Our line of products includes:
Sanitary pressure regulators,
Sanitary Back pressure regulators,
Sanitary Control valves,
Sanitary Steam traps,
Sanitary Sight glasses,
Sanitary Check valves
We are passionate about providing valves and equipment that:
Increase our customer's asset utilization
Improve product throughput
Decrease operating and maintenance costs
Why Do Business With Steriflow Valve?
Industry Experience: Steriflow Valve is the industry leader in sanitary valves for the pharmaceutical and bio-pharmaceutical markets. We grew up with the bio-pharmaceutical industry and have continued to innovate with new products, increasing line sizes of current products, and taking an active role in industry leadership events.
Innovation: We are continually adding new product classes and expanding the operating and application ranges of other products. We're always striving to improve and innovate our offerings. In fact, we have nine industry-first valves!
Quality & Reliability: Quality and reliability are always at the forefront of our design and manufacturing processes. We are also the only company in the industry to offer a lifetime diaphragm warranty. The ruggedness of our diaphragms and the other components in our regulators and control valves are well known and documented by our customers.
Diverse Products: Steriflow provides customers with a one-stop shop for all of their sanitary regulator, control valve, ball valve, steam trap, and steam accessory needs.
People: We have a talented team of people dedicated to helping you find the best product and solution for your needs. Our engineers are committed to offering sizing and application assistance. Our global network of sales representatives and distributors are readily available to assist you.
What Drives Steriflow Valve
Our Mission
At Steriflow Valve, our ultimate goal is to provide sanitary valves and equipment that increase our customer's asset utilization and product throughput, while decreasing operating and maintenance costs.
Our Vision
Implement ideas and develop solutions for our customers with deliberate speed while investing in our people, products and services.
Our Values
Integrity: We behave in a manner that demonstrates trust, honesty, courage, consistency and responsibility with a willingness to admit our mistakes.
Honesty: It is a core business practice to act in a transparent and trustworthy manner that earns the respect of our team, vendors and customers.
Innovation: We foster a work environment where creative thinking is encouraged and rewarded in order to create opportunities for process improvement and more cost-effective sustainable products.
Promise to Customers: We want to create a great customer experience by staying true to the words we speak and the bonds we make.
Teamwork: We are all colleagues and part of the same team, striving to deliver the brand promise to our customers every day.
Quality: We take pride in providing high value products and services that we stand behind, which ensure customer satisfaction.
Safety: We strive to provide a work environment that reduces risk to our employees.
Awards & Recognition
In November of 2022 Steriflow Valve was featured in the cover story: Fluid control for demanding pharmaceutical applications by the Process Instrumentation publication.
Company History
Steriflow Valve became an autonomous division of our parent company (Jordan Valve) dedicated to manufacturing products for the pharmaceutical industry in 2007 but we've been around since 1988.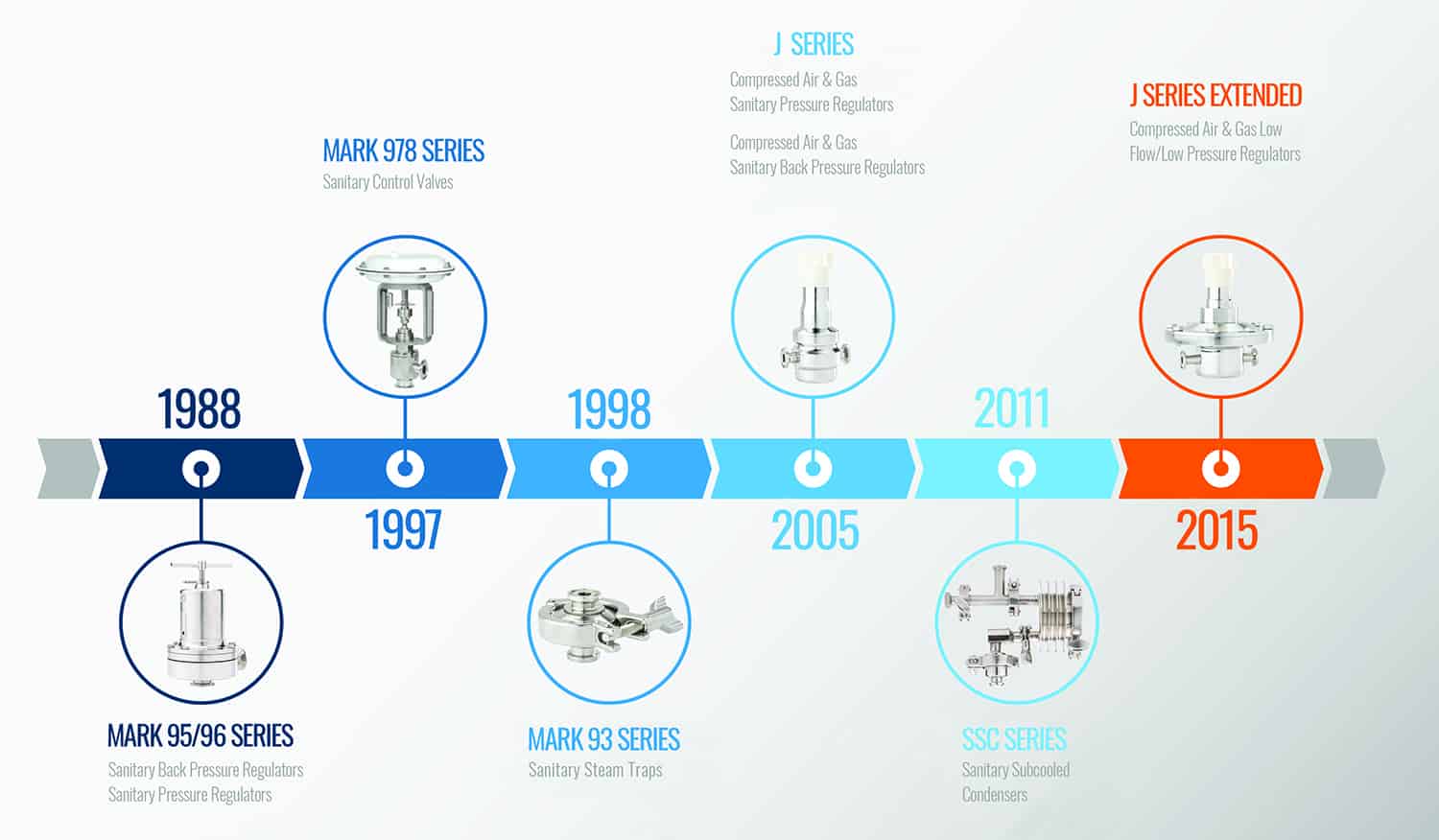 We got our start back in the 1980's, when the new biopharmaceutical industry presented opportunities for innovative valve manufacturers to create technology for control of validated steam sterilization, and purified water pressure control. Jordan Valve's "Steriflow Regulator," was the first to market, with a very reliable pressure reducing valve and back pressure regulator that met the industry's standards for material, drainability, particulate minimization, surface finish, and the accuracy requirements of minimal offset.
Within 10 years, Steriflow regulators became, and still are, the most frequently specified for Clean Steam pressure control, Buffer pressure control, and Purified Water back pressure control in the world.
In 2007, with several more regulator, control valve and clean steam specialty products under our belt, the Steriflow Valve division was created to nurture continued innovation, and to broaden our product scope. Since that time we have introduced a broad range of industry firsts for the Biopharmaceutical Industry:
The industry's first, and only Lifetime Diaphragm Warranty for our Regulators and Control valves.
The first true spring, and crevice free Check valve for horizontal and vertical line WFI and Bioprocess applications.
The world's only down flow Check Valve for Bioprocess drain applications.
The world's first precision aseptic metering valve.
The world's largest Pure Steam trap and accessory product range including products that can: shorten SIP heat-up time and eliminate validation temperature alarms
The first clean gas regulator product line developed specifically for Biopharmaceutical applications.
The first clean gas regulators designed specifically for reliable control of low flows and low pressure.
Richards Industrials is the parent company of Steriflow and six other industrial product lines: